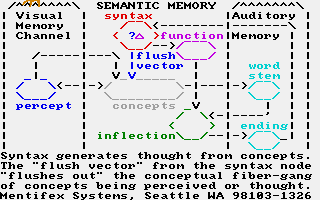 Abstract
An AI mind maintainer is a human or robotic being who watches over the functioning of a mission-critical AI installation and performs upkeep and repairs as needed.
1. Software
Using the AI Perlmind codebase as an example, we advise trainees in mind-maintainenance carefully to select a software mind-module in which to specialize on the basis of acquired expertise. No human mind-maintainer will be able to grasp the proverbial big picture of the entire AI Mind as it evolves and sprawls over space and time.
2. Hardware
Specialists in AI mind-maintenance must become not only familiar but also deeply knowledgeable about computer and robot hardware.
3. Venues
[High School] The first AI Mind installations will be in high-school computer classrooms. The teacher or teacher's aide or star student will be the AI Mind Maintainer, showing students how to run the AI Mind in Perl or in Forth.
[Academia] Subsequent installations will be in college dormitories and college AI Labs. Interested parties will specialize in particular mind-modules, such as VisRecog for visual recognition or Volition for FreeWill in robots.
[Science Museums] Docents are needed to demonstrate AI.
[Fortune 500 Companies] Devil take the hindmost.
4. Education and Training
The following schools, colleges and universities should offer programs of instruction in the profession of mind-tending and mind-maintaining.
Your school or college here.
Your instructional program here.
Your on-line teaching details here.
Visit Workey to look for some pertinent career advice.
5. Certification and Licensing
Whether issued by a government or by a professional guild, attestations as to the skill and knowledge and reliability of an AI Mind maintainer will allow AI workers to move about in the AI industry and to advance in their careers.
Will Workey step up to the plate?
6. Professional Societies
Think of the conventions and the speechifying, the jostling for power and prestige, the chance to get away from work and to travel to such a prestigious event as a Meeting of the Mind-Maintainers.
7. Books, Manuals, Newsletters, Etc.
Memoirs of a Mind-Maintainer?
The Care and Feeding of Artificial Minds?
Handbook of Mind Maintenance?

8. Employment Opportunities
Any student or entrepreneur may install the JavaScript MsIeAi on websites or computers for clients hiring the installer as an AI Mind Maintainer. The True AI in JavaScript is a replica of MindForth for robots and the ghost.pl AI for webservers, but does not require downloading Forth or Perl. Business clients may have their own weblinks visible on the AI Control Panel and may have the maintainer code information about the business into the knowledge base (KB) of the AI.
9. Mind Modules of First Working AGI
MainLoop


TabulaRasa -- wipe memory clean

Sensorium -- sensory input with associative tagging to concepts

FileInput -- read files on a server

Volition -- free will resulting from feeling and thinking

Emotion as influence on thought and free will

EnThink -- think in English

KbRetro -- retroactively adjust knowledge base

Subjunctive -- mood for conditional phrases

ConJoin -- insert a conjunction if two thoughts are active

RuThink -- think in Russian

RuImperative -- needs to be coded

RuIndicative -- needs to be coded

RuNounPhrase -- think with a Russian noun

RuAdjective -- insert a Russian adjective

RuAdjGen -- to generate a Russian adjective-form

RuPrep -- insert a Russian preposition

RuPronoun -- substitute a Russian pronoun for a noun

RuVerbPhrase -- think with a Russian verb

Speech -- output to screen or loudspeaker

VisRecog -- visual recognition inserts a noun

RuNounPhrase -- direct-object noun

RuNounGen -- to generate a Russian noun-form

SpreadAct -- spreading activation from concept to concept

MindMeld -- merge two AI Minds by sharing memories

Motorium (MotorOutPut) -- for AI-Minded robots



Table of Contents (TOC)








Return to top; or to
http://en.wikipedia.org/wiki/Natural_language_understanding -- solved.
http://old.reddit.com/r/ControlProblem -- NOT SOLVED.
javascript subreddit for AI Mind discussion;
Forth subreddit for MindForth discussion;
Perl subreddit for ghost.pl AI Mind Maintainers.